Introducing a
new
liquid-powder
hybrid formula with prismatic reflections that instantly sculpts, highlights and models the face to the desired effect –
In Extra Dimension
. Two formulas to try: the three shades of Extra Dimension Skinfinish and the ten shimmering tints of Extra Dimension Eye Shadow. This cool, creamy, silky, near-fluid formula creates a luminous, visually arresting, well-defined finish.
In stores in the UK from April 5th.
Extra Dimension Skinfinish (£21.50 / €28.00 /

$28.00 / C$33.50 )
Whisper of Gilt - Soft White Gold With Shimmery Sheen
Superb - Soft Peachy Nude With Multi-Dimensional Shimmer
Glorify - Copper With Golden Shimmer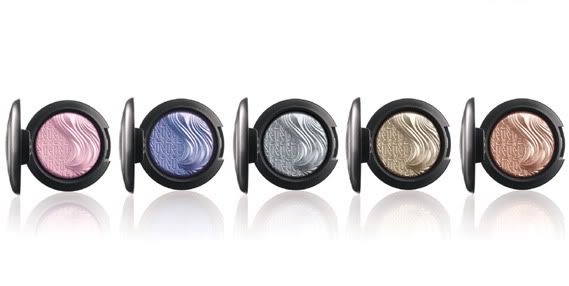 Extra Dimension Eye Shadow (£16.50 / €20.50 /

$20.00 / C$24.00)
Young Venus - Pale White Pink (Metallic)
Blue Orbit - Light Iridescent Purple (Metallic)
Warm Thunder - Dirty Silver Grey (Metallic
Modern Pewter - Dirty Olive Gold (Metallic)
Sweet Heat - Bright Peach Champagne (Metallic)
Extra Dimension Eye Shadow (£16.50 / €20.50 /

$20.00 / C$24.00)
Havana - Dirty Copper Brown (Metallic)
Grand Galaxy - Dirty Mid Tone Violet (Metallic)
Lunar - Royal Blue (Metallic)
Rich Core - Dirty Aubergine (Metallic)
Dark Dare - Charcoal Black (Glow)
I love the sound of this liquid powder formula. It's nothing new though, Estee Lauder released their

Gelée Powder products last year and this appears to be basically the same thing. It's still nice to see MAC trying to do something a little new though, even if it is the same product as it's parent company's.
(Images courtesy of M.A.C Cosmetics)